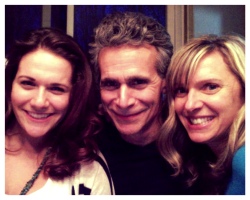 It began as a dream that April had on the way to school with her father. She thought that since she really enjoyed her time with her parents, Tim and Pam they should someday open a family business. To extend their time together in the morning, she'd ask her dad if they could leave a little early to stop for juice and a muffin. April would talk about opening a muffin shop and discuss in detail the role that her parents would play in the business. She even had a name; it would be called "Three Little Birds" in reference to the three of them. Her dream never faded as she went to high school and then to college; however, her idea of the family business had changed. April's passion had always been the fashion industry and now her sights were set on opening a boutique.
In 2011, April graduated from Kent State with her degree in fashion merchandising and began working at a boutique and then Nordstrom. All the while calculating how she would open her boutique and how her parents fit into the business. The "three little birds" had much different interests as her mom was a nurse and her dad worked in a corporate environment. The only common denominator was that they all loved yoga. In fact, it was April that convinced her parents to try yoga. A year later April and Tim became certified yoga teachers through Chagrin Yoga.
Then it happened! While April was working at Nordstrom, a customer had come in to purchase a coat from her. As they interacted, he had asked April some questions about her future career plans. April mentioned to him that she someday hoped to open a boutique with an all-natural café. The customer then mentioned that there may be an opportunity for her in Kent, Ohio. April then told him that she didn't have the financial resources but that her father was currently looking to open a yoga studio and that he may be interested.
April mentioned the encounter she had at Nordstrom with her father. Tim immediately called to find out more about the opportunity in Kent. After several meetings, it was apparent to Tim, Pam and April that Kent was a perfect location for a yoga studio. With the "three little birds" collective passion for yoga, nutrition, and the environment along with April's passion for fashion, the family business began to develop. They would sell earth friendly apparel, including yoga wear and design a heated loft yoga studio. Now all the "three little birds" needed to do was create the name. That would be easy. It would be called One Love Yoga.
Tim, Pam, and April feel so privileged to be able to bring yoga to Kent, Ohio.